Meetings & Weddings
Los Angeles Event Venues
Luxe Sunset Boulevard Hotel provides a prestigious yet modern setting for meetings, special events, and weddings in Los Angeles, both intimate and grand. And with convenient access to LAX, Brentwood, Malibu, and the area's premier attractions, guests can enjoy a stylish refuge for exploring LA's iconic sites.
Venue Highlights
Over 13,000 square feet of event space
Expansive outdoor terrace
State-of-the-art AV equipment
High-speed Internet access
Private event planning
International and customized menus
Off-site catering and kosher catering available
Group travel arrangements available
Dedicated wedding specialists
Up to 300 guests
Mobile app capabilities
Lavish ballroom
Romantic outdoor terrace
Executive Chef and culinary team
Kosher catering available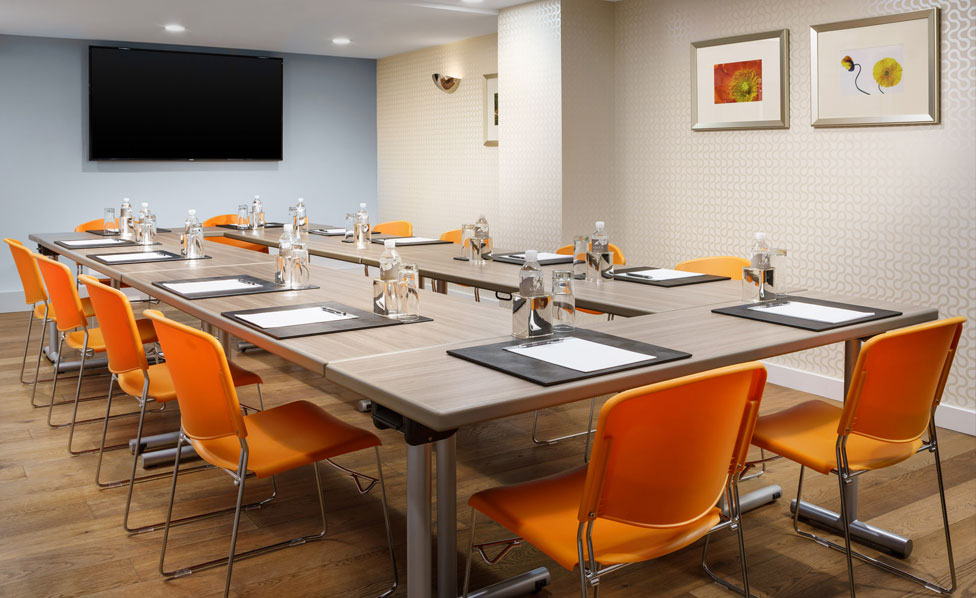 Malibu Meeting Room
600 sq ft | Up to 30 guests classroom or 26 conference
Located on the second floor, the naturally lit Malibu Room is ideal for meetings, training sessions and intimate social events. This stylish venue can accommodate up to 26 attendees conference-style or 50 for a standing cocktail reception.
Luxe Sunset Ballroom
4,500 sq ft | Up to 300 guests (100 each)
A spectacular backdrop for conferences, presentations, and milestone celebrations, the Luxe Sunset Ballroom can be used as one expansive space or divided into smaller configurations to suit your needs. The Ballroom also opens to the beautiful Sunset Terrace.
Luxe Terrace
1,500 sq ft | Up to 300 guests
A stunning outdoor space featuring a Mediterranean garden, olive trees, and fountains, built-in cushioned banquettes, and atmospheric lighting for nighttime events—Luxe Terrace is perfect for festive celebrations or swanky cocktail parties.

Venues
Capacity Chart & Floorplans
| Rooms | Sq.Ft | Dimension | Ceiling Ht. | Reception | Banquet | Class Rm. | Theater | Conf. |
| --- | --- | --- | --- | --- | --- | --- | --- | --- |
| Sunset Ballroom | 4,500 | 52' × 84' | 14' | 300 | 300 | 180 | 300 | - |
| Sunset I | 726 | 26' × 28' | 14' | 50 | 50 | 30 | 60 | 20 |
| Sunset II | 1,456 | 52' × 28' | 14' | 100 | 100 | 60 | 120 | 40 |
| Sunset III | 1,456 | 52' × 28' | 14' | 100 | 100 | 60 | 120 | 40 |
| Sunset IV | 728 | 26' × 28' | 14' | 50 | 50 | 30 | 60 | 20 |
| Sunset Terrace | 1,500 | 60' × 25' | - | 300 | 100 | - | 200 | 40 |
| Rooms | Sq.Ft | Dimension | Ceiling Ht. | Reception | Banquet | Class Rm. | Theater | Conf. |
| --- | --- | --- | --- | --- | --- | --- | --- | --- |
| Brentwood Rooms | 1,000 | 25' × 40' | 8' | 80 | 70 | 40 | 70 | 30 |
| Brentwood I | 500 | 25' × 20' | 8' | 40 | 30 | 18 | 30 | 20 |
| Brentwood II | 500 | 25' × 20' | 8' | 40 | 30 | 18 | 30 | 20 |
| Bel Air Room | 345 | 23' × 15' | 8' | 20 | 20 | 15 | 30 | 18 |
| Mailbu | 600 | 31' × 19' | 8' | 50 | 40 | 30 | 56 | 26 |
| Santa Monica | 370 | 27' × 14' | 8' | 40 | 30 | 21 | 40 | 24 |
| Palisades | 300 | 23' × 13' | 8' | - | - | - | - | 10 |
| Poolside | 4,000 | 10' × 20' | - | 300 | 200 | - | - | 300 |
| Luxe Lounge Patio | 2,000 | 50' × 40' | - | 60 | 50 | - | - | - |
Venue
Details
Capacity Chart & Floorplans
Sunset Ballroom
Sq.Ft
4,500
Dimension
52' × 84'
Ceiling Ht.
14'
Reception
300
Banquet
300
Class Rm.
180
Theater
300
Conf.
-
1. Sunset I
Sq.Ft
728
Dimension
26' × 28'
Ceiling Ht.
14'
Reception
50
Banquet
50
Class Rm.
30
Theater
60
Conf.
20
2. Sunset II
Sq.Ft
1,456
Dimension
52' × 28'
Ceiling Ht.
14'
Reception
100
Banquet
100
Class Rm.
60
Theater
120
Conf.
40
3. Sunset III
Sq.Ft
1,456
Dimension
52' × 28'
Ceiling Ht.
14'
Reception
100
Banquet
100
Class Rm.
60
Theater
120
Conf.
40
4. Sunset IV
Sq.Ft
728
Dimension
26' × 28'
Ceiling Ht.
14'
Reception
50
Banquet
50
Class Rm.
30
Theater
60
Theater
20
5. Sunset Terrace
Sq.Ft
1,500
Dimension
60' × 25'
Reception
300
Banquet
100
Class Rm.
-
Theater
200
Conf.
40
Brentwood Rooms
Sq.Ft
1,000
Dimension
25' × 40'
Ceiling Ht.
8'
Reception
80
Banquet
70
Class Rm.
40
Theater
70
Conf.
30
6. Brentwood I
Sq.Ft
500
Dimension
25' × 20'
Ceiling Ht.
8'
Reception
40
Banquet
30
Class Rm.
18
Theater
30
Conf.
20
6. Brentwood I
Sq.Ft
500
Dimension
25' × 20'
Ceiling Ht.
8'
Reception
40
Banquet
30
Class Rm.
18
Theater
30
Conf.
20
8. Bel Air Room II
Sq.Ft
345
Dimension
23' × 15'
Ceiling Ht.
8'
Reception
20
Banquet
20
Class Rm.
15
Theater
30
Conf.
18
9. Poolside
Sq.Ft
4,000
Dimension
10' × 20'
Ceiling Ht.
-
Reception
300
Banquet
200
Class Rm.
-
Theater
-
Conf.
300
10. Luxe Lounge Patio
Sq.Ft
2,000
Dimension
50' × 40'
Ceiling Ht.
-
Reception
60
Banquet
50
Class Rm.
-
Theater
-
Conf.
-
Catering setup of white plates and wine

Catering services are provided by Sirocco's critically acclaimed Executive Chef Olivier Rousselle, who along with his talented culinary team prepare dishes using only the finest and freshest ingredients available. From tastings to formal dinners, Chef Rousselle has designed a variety of flavorful menus for virtually any occasion.

Chef

If you wish to elevate your gathering with Executive Chef Olivier Rousselle's mastery, but your event is not at the hotel, please note that Luxe Hotels Los Angeles catering services are available for off-site events too.

More Details
Extraordinary Spaces for anything-but-ordinary events

Beat the summer heat by hosting your next team building trip, business conference, or social event at Luxe Sunset Boulevard Hotel and we'll let you "Pick Your Perk" to sweeten the deal!

Simply book your upcoming event and pick one of our amazing perks:
• 10% off your event/meeting*
• Complimentary glass of wine during your event/meeting
• Gift certificate for one night stay in Junior
Suite plus breakfast for two (2)
• Brunch for two (2) at Sirocco restaurant (excludes)
• alcohol and gratuity)
• $100 AMEX gift card

More Details