Meetings
Stylish Meeting Space in Beverly Hills
Corporate meetings, cocktail parties, seminars and more receive the personalized attention they deserve at Luxe Rodeo Drive, a boutique hotel in Beverly Hills. Our distinctive meeting rooms are ideal for corporate and social events from 10 to 120 guests and artful banquet menus further elevate your experience.
Services & Amenities
State-of-the-art AV equipment
High-speed Internet access
Private event planning
Mobile app capabilities to schedule, order, and track service requests
International and customized menus showcasing locally sourced ingredients
Off-site catering and kosher catering available
Group travel arrangements available
Start
Planning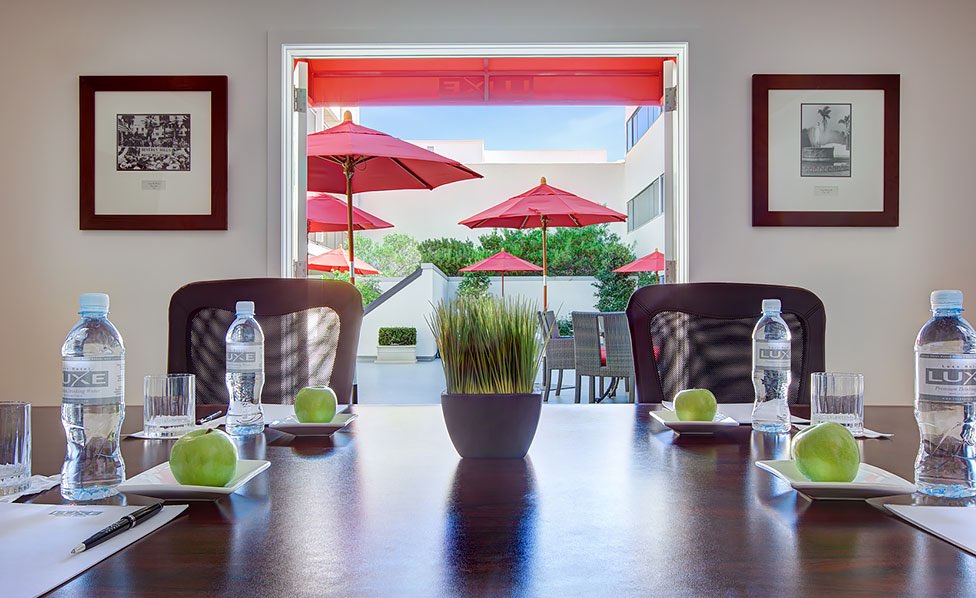 Mezzanine
2,688 square feet | Up to 150 guests
Perfect for an outdoor reception, our Mezzanine accommodates a wide variety of social gatherings under the warm, welcoming Southern California sun or under a starry night sky.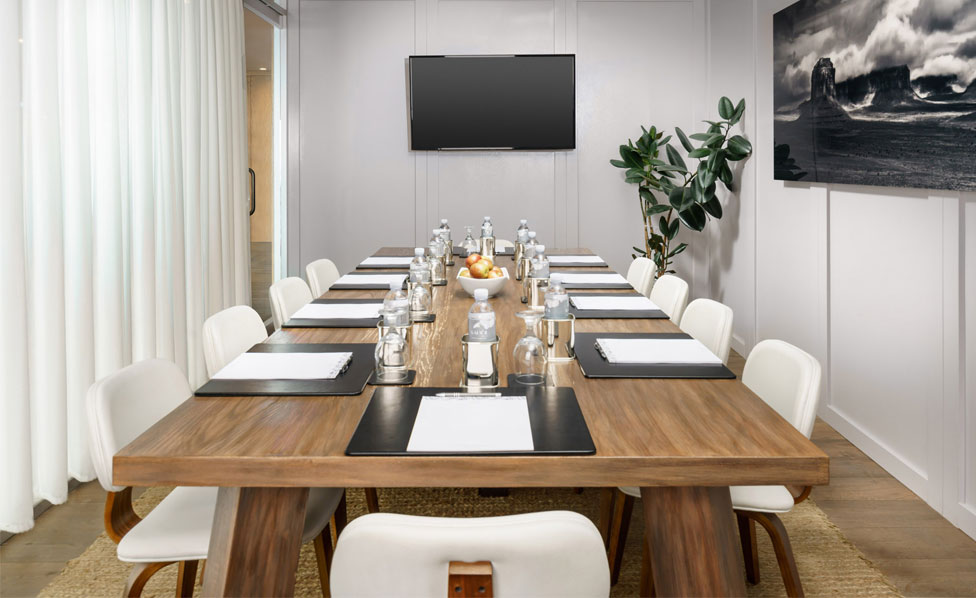 Lobby Boardroom
190 square feet | Up to 10 guests
Perfect for smaller gatherings, our new, conference-style space features state-of-the-art AV equipment and modern decor, adding an impressive statement to any meeting.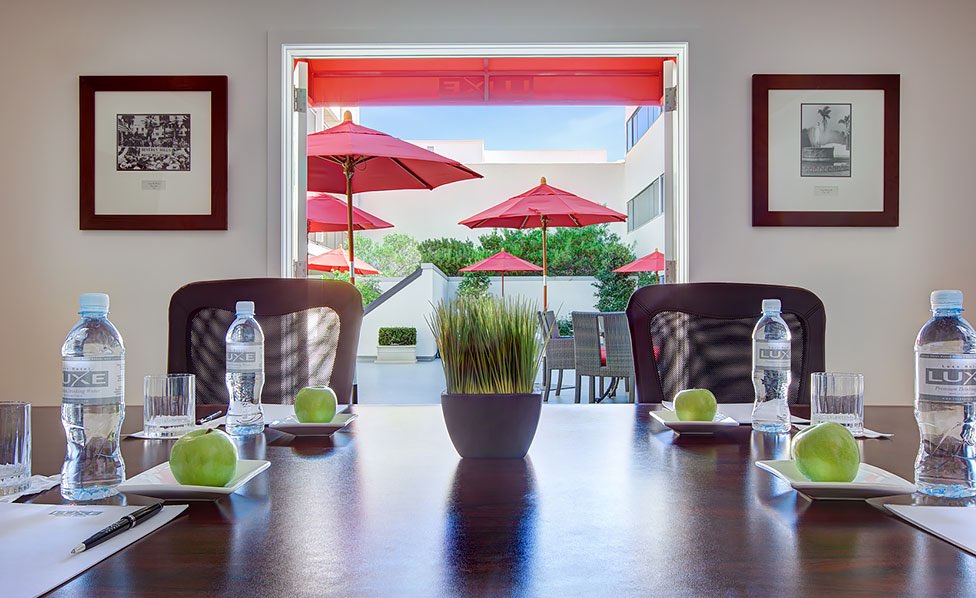 Mezzanine Boardroom
234 square feet | Up to 10 guests
Our executive conference room opens up to the Mezzanine Courtyard comes fully equipped with high-end audio/visual equipment, providing a unique space for more intimate gatherings.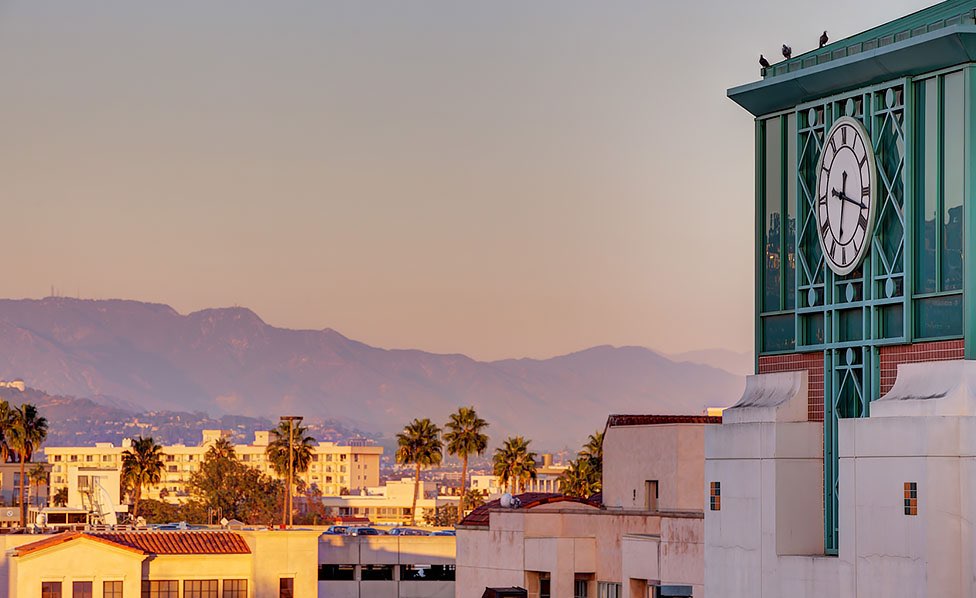 Rooftop 360
4,753 sq. ft | Up to 200 guests
Located within the property's Beverly Tower penthouse space, Rooftop 360 offers an outdoor retreat for guests to socialize, relax and workout. A movie screening space and recreation area are also available for private parties.

Venues
Capacity Chart & Floorplans
Venue
Details
Capacity Chart & Floorplans
1. 360 Rooftop
Sq.Ft
4,753
Dimension
97' × 49'
Ceiling Ht.
8'7"
Reception
200
Banquet
60
Class Rm.
-
Theater
70-120
Conf.
-
2. Lobby Boardroom
Sq.Ft
190
Dimension
19' × 10'
Ceiling Ht.
8'7"
Reception
-
Banquet
-
Class Rm.
-
Theater
70-120
Conf.
10
3. Mezzanine
Sq.Ft
190
Dimension
19' × 10'
Ceiling Ht.
-
Reception
150
Banquet
-
Class Rm.
-
Theater
-
Conf.
10
4. Mezzanine Boardroom
Sq.Ft
234
Dimension
13' × 18'
Ceiling Ht.
8'
Reception
-
Banquet
-
Class Rm.
-
Theater
-
Conf.
10
5. Rodeo Patio
Sq.Ft
135
Dimension
9' × 15'
Ceiling Ht.
10'
Reception
25
Banquet
-
Class Rm.
-
Theater
-
Conf.
-